Vancouver Waterfront
Vancouver Waterfront
Vancouver Waterfront
401 East Waterfront Road, Vancouver, BC,V6A 4G9
Vancouver Waterfront
Free Wi-fi
Transportation/'service' to Mission from ship. (20min walk to downtown from there) Call centre at 604 253 4421 - runs when drivers are available.
chapel -bibles and other Christian literature
pool table
used clothing
new 'Canadian' clothing -jackets, T-Shirts,caps
shop for snacks - chips, cookies
souvenirs (keychains, magnets, post cards etc.) and toiletries
money transfers to the Philippines
65 inch TV - sports, news and more
phone cards (no SIM cards as the cost at present in Canada isn't a good deal for seafarers. )
free new magazines and used books
A worship service such as Mass/Communion or prayers can be held either at the Mission or on board ship when requested with the captain's permission (call us to request)
Chaplains visit ships and are available to support the crew
Friendly staff and volunteers are here to welcome you!
News
---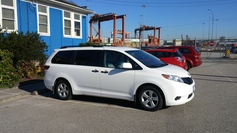 Recognizing the importance of servicing the needs of seafarers who come to our shores on ships we have recently purchased a Toyota Sienna mini-van which seats 7, to transport seafarers from their ship to and from... Read More