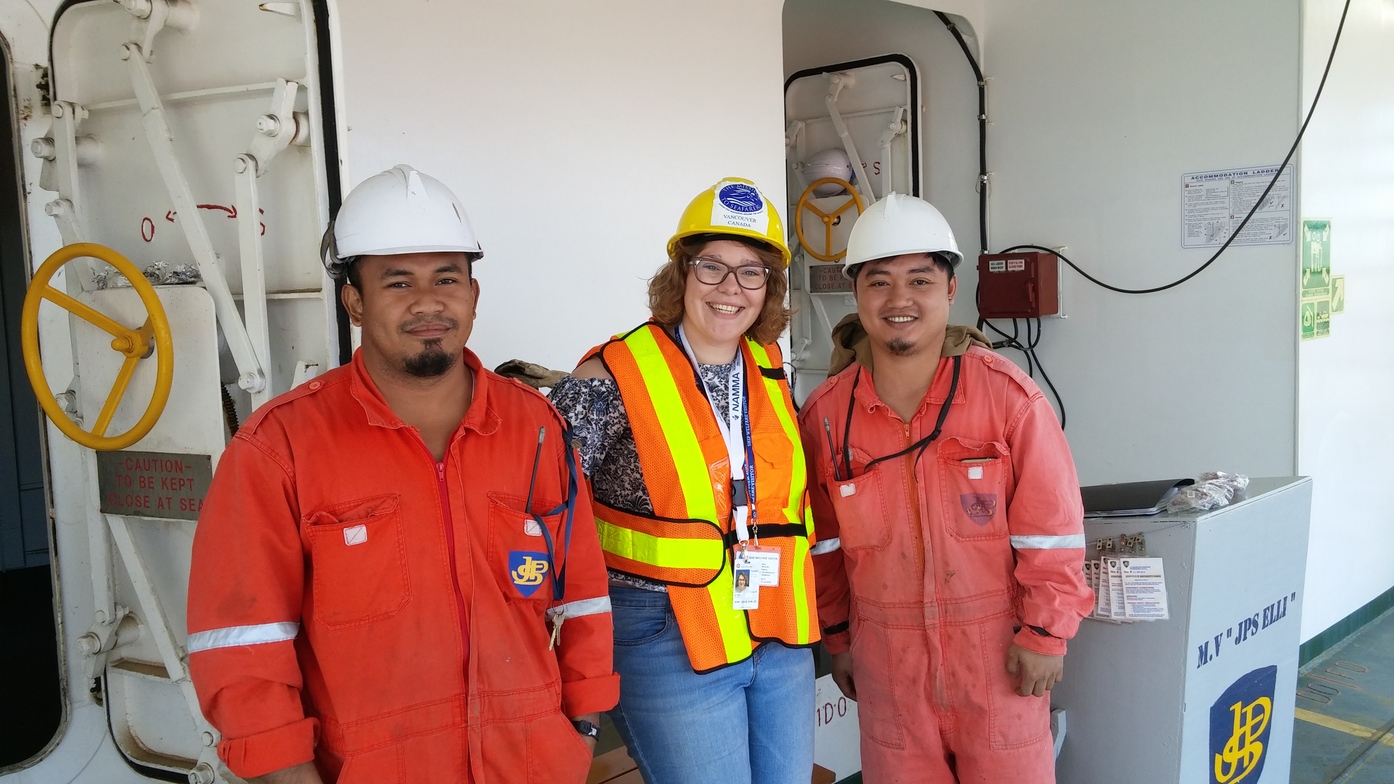 As we step into 2018 it's a time for new beginnings and this time my new year comes with a new job in a new country! I'm officially moving to London, England to work with Mission to Seafarers and Queen Victoria Seamen's Rest as their Chaplaincy Assistant at the Port of Tilbury.
I'll continue to use the skills I developed in Vancouver: ship visiting, welcoming seafarers to the seafarers' centre, and providing transportation and hospitality services. Since London is the International Headquarters of Mission to Seafarers, I'll also get a behind the scenes look at what goes into running an international not-for-profit.
Unfortunately, new beginnings inevitably come with endings. It will be hard to leave Vancouver behind, the chaplains I met there introduced me to port chaplaincy and taught me so much about what it means to serve God and serve others. There's so much I'll remember about my six months in Vancouver, but a few distinct memories stick out to me:
-A training ship full of cadets called at our port several times and I had the pleasure of baking cupcakes for the 40+ crew members and hosting them in our Delta Port centre. I had such a nice time chatting with the cadets as a fellow "twenty-something" about our experiences learning how to be "real adults". (I know they've read my blog before, so here's a shout out to the crew of NYK Theseus if they're reading this!) They taught me that it doesn't matter whether you grew up in India, Philippines, Vietnam, or Canada – we all have a shared human experience.
-Our Cycle for Seafarers ride was another exciting experience. It was so fun to work with volunteers from St. Michael's Multicultural church and meet all the riders who had worked so hard to raise money for the work we do.
-My experience at MTS Vancouver also helped me to grow professionally. It seems like a strange memory to cherish, but I really loved attending board meetings. I learned how non-profit boards make decisions, come up with new policies, and ensure the centre runs smoothly. I really appreciated being included in meetings and the mentorship I received from my colleagues and board members.
-My trips to New Orleans, Saint John, and Seattle were highlights of my past 6 months. I got connected with an international network of seafarers' welfare professionals and learned about the amazing work that people across the globe are doing to care for seafarers and their families. I was especially impressed to meet a group of bright and energetic interns in Seattle who gave a year of service to the Mission.
-My final day in Vancouver was also one of my best memories. I got to spend the day with my whole chaplaincy team delivering Christmas presents to ships at anchorage in Vancouver Harbour and English Bay. We went out on a little boat and played Santa for over 400 seafarers. After spending weeks preparing over a thousand presents with help from dozens of energetic volunteers it was so rewarding to see the smiles on the seafarers' faces.
I feel blessed and honoured to have worked with the MTS Vancouver team. Their dedication and patience really made my time in Vancouver an experience that I won't soon forget. I'll be praying for you guys and the work you're doing and I'm excited to continue on as your colleague (from across the pond!).
Comments for this post are now off.